Join A Proven Moving System!
Our company is the preferred mover for the NBA's Oklahoma City Thunder.
We invite you to ask us about it!
Meet 2 Fellas Moving Company
2 Fellas Moving Company has been professionally serving customers since 1996. We are locally owned and operated. All of our employees are background checked and full-time labor.
2 Fellas conducts a move with efficiency and care. We handle goods as if they were our own. 2 Fellas offers many resources that will ease the mind and guarantee that we are the right choice.
Our Services
Load and Unload Valuables
2 Fellas Movers are bonded and insured. We take the utmost care loading and unloading valuables. We take care of them as if they were our own.
Residential and Commercial Moves
We are a full service relocation company. Whether it is a home or business, we can handle it.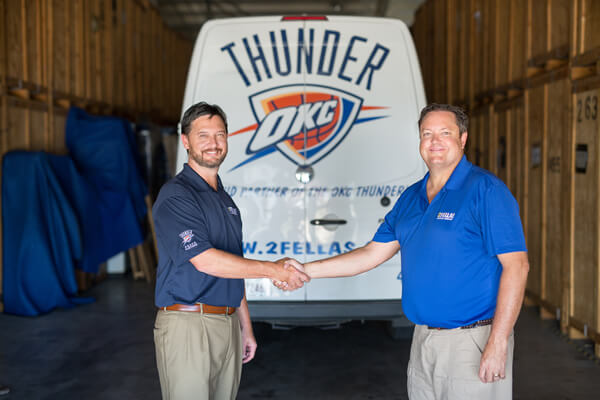 Provide Boxes and Packing Material
We have a full selection of packing materials to secure fragile belongings.
Secure Storage Facility
Our client doesn't have enough room at the new location? No problem! 2 Fellas offers multiple storage options at affordable prices! Their valuables will be safe in our secure storage facility for as long as they need to leave them with us!
Ideal Candidate
Our ideal candidate will be someone who sees the growing moving services business as an opportunity to create their own business within. We look for someone who is compassionate in understanding that moving someone's belongings from one residence to another can be emotionally tolling and that we strive to provide the utmost care, compassion, and ease to our customers.
Next Steps
Interested? Fill out the form today!