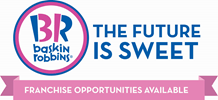 A Brand People Know and Love
With more than 8,000 worldwide locations, Baskin-Robbins is one of the world's largest chains of ice cream shops. We are in search of exceptional franchise candidates to grow with us. If you meet our qualifications, have
a passion for your local community, and of course, love ice cream – it's time to consider joining the Baskin-Robbins family!
A Recognized Leader
Ranked in QSR Magazine's "QSR 50"
Ranked in Franchise Times' Annual "Top 200"
Ranked in Entrepreneur Magazine "Franchise 500"

Here's the Scoop
There are plenty of reasons to invest with a brand as fun as Baskin-Robbins. Here's a taste of why entrepreneurs are considering Baskin-Robbins as their franchise of choice.
Marketing & Brand Support
Flexible Development Options
Training Systems & Field Support
Financial Incentives
Marketing & Brand Support
CREATING A POWERFUL BRAND IMAGE
Our brand complements national marketing with local campaigns and integrates traditional marketing with new media for maximum impact. We also offer our Franchisees a comprehensive suite of promotional materials to use for their own local shop marketing efforts.
In-Demand Products
Our world-class culinary team expertly develops products to help keep guests coming back for more. Baskin-Robbins offers something for everyone: creative cones, unique cakes, specialty desserts, frozen beverages and take-home treats. We also offer Bright Choices®, a line of better-for-you ice creams, frozen yogurts and sorbets, including dairy-free, fat-free, light and no sugar added options.
We also now offer DIY kits! Take our great products home for a fun activity to do together. Our DIY kits include Sundae kits and Polar Pizza kits.


Development Options
Baskin-Robbins offers flexible designs to fit almost any location!
TRADITIONAL SHOPS - depending on the location you have in mind—freestanding, end-cap or in-line—our real estate and construction experts are ready to assist in the development and build-out of your site. Site criteria typical for a Baskin-Robbins is 800 to 1,500 sq. ft. with approximately 20 feet of frontage.
NON-TRADITIONAL SHOPS - As part of our extensive portfolio, Dunkin' Brands has been developing non-traditional locations for over 20 years. Our non-traditional development program customizes solutions for unique venues - whether you want to become a Franchisee yourself or lease space to a Franchisee.
TURNKEY DEVELOPMENT OPPORTUNITIES-When compared to more traditional development opportunities, turnkey options offer potential candidates:

In many cases, a lower cash requirement

An approved site sourced by Baskin-Robbins

Real estate secured by Baskin-Robbins: no negotiating necessary

Development/construction managed by Baskin-Robbins

PURCHASE AN EXISTING BASKIN ROBBINS
MINIMUM FINANCIAL REQUIREMENTS FOR BUYING AN EXISTING SHOP:
Minimum Down Payment of 10% of Purchase Price
Verifiable Liquid Assets of 30% of Total Selling Price (plus costs of remodels due in the next 24 months)
INCENTIVES FOR BUYING AN EXISTING SHOP:
For honorably discharged veterans:
The 1st year royalties would be reduced to 3.9%
The 2nd year royalties would be reduced to 4.9%.
We would give a closing credit of $5,000 to be applied toward any Baskin-Robbins closing costs.
We would also bring the shop up to 10 years of franchisees term.
And last but not least we'd give the buyer a $3,100 credit toward equipment repairs or purchase of new equipment (pre-qualified repairs only).
FINANCIAL REQUIREMENTS FOR BUYING A NEW SHOP
An Initial Investment ranging from $100,000 – $401,800
$200,000 Networth
$100,000 Liquid Cash
An Initial Franchise Fee of $25,000 (20-year term)
INCENTIVES FOR BUYING A NEW SHOP:
For honorably discharged veterans:
Royalties would be waived for the first 2 years, 0%
Royalties for the 3rd year would be 1.9%
Royalties for the 4th & 5th year would be 2.9%
Initial Franchise Fee of $25,000 *waived for qualifying veterans
*Timely opening is required
Training, Systems & Field Support
Baskin-Robbins provides a comprehensive operating system designed to help build business along with a world-class training program that covers branding, business management and more. In addition, Franchisees always have access to an experienced field support team.
Training – Who goes and can they send a manager instead?
We require at least one person listed on the Franchise Agreement to complete training. No Exceptions
The initial Training fee for a person buying an existing shop is $1,600 and is collected at the time of transfer. For new stores, the training fee is included in the initial franchisee fee.
A manager or second person can attend training. There is an additional cost of $1,500 per person and is subject to class availability. This fee is collected at the time of training.
Buyer is responsible for all travel, hotel, meals and other expenses while at training.
Training lasts 3 weeks and is conducted at our state of the art training center in Braintree, MA. Classes run monthly.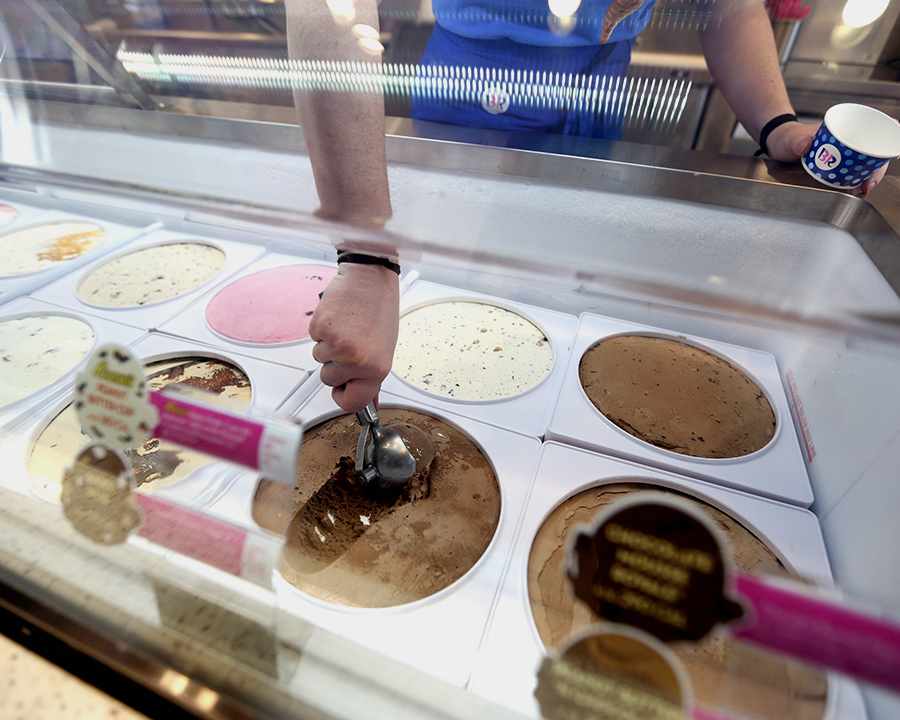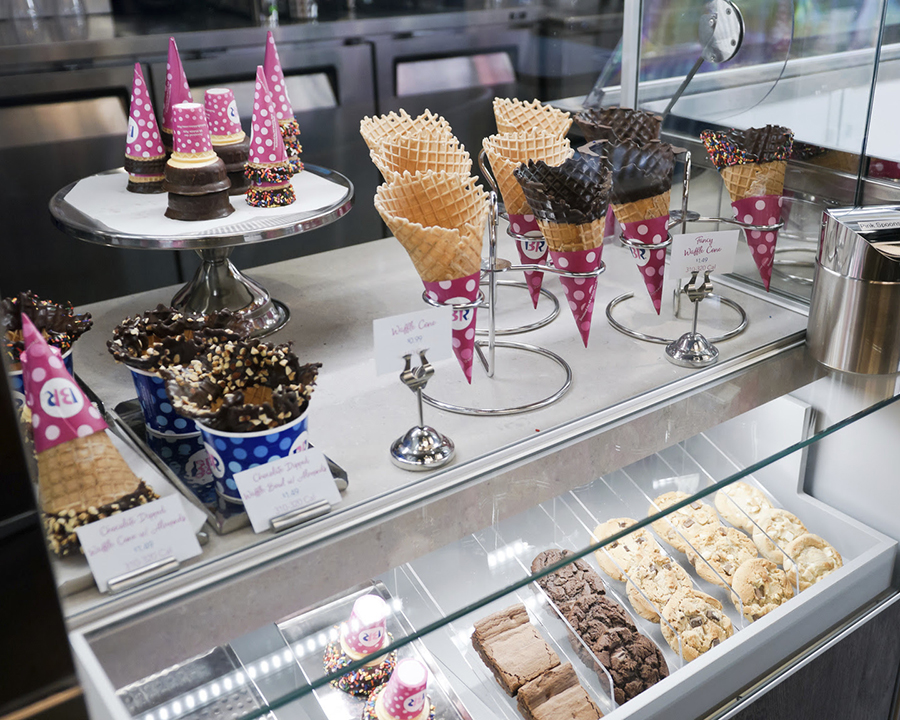 candidates must be U.S. Citizens or U.S. Resident Aliens (green card)Requirements to become a Baskin-Robbins Franchisee:
Baskin-Robbins will run credit and criminal background checks on everyone who will be on the franchise agreement.
All candidates will be interviewed and must be able to communicate in English.
Minimum financial requirements are verifiable liquid assets of 30% of TOTAL selling price (including any remodeling costs that have to be completed in the next 24 months of the sale) or Bank commitment letter for the purchase.
Minimum down payment of 10% of purchase price.
Successful completion of Baskin-Robbins 3 week training program in Braintree, MA.


Are there any other fees or charges associated with the transfer?
All transfers are required to pay a Marketing Start Up Fee of $3,000
At transfer, closing the buyer will also pay for the first years ELearning courses of $300.
Baskin Robbins shops that have the RSVP register system will need to pay a $300 transfer fee to transfer ownership and credit card processing the day of the transfer; this fee is paid to RSVP.
*Refer to the Baskin-Robbins Franchise Disclosure Document (FDD) for more information