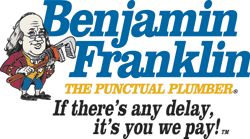 Why Ben Franklin?
Benjamin Franklin Plumbing® ~ "The Punctual Plumber"™ ~ offers homeowners ON-TIME delivery of service or they don't pay a dime. We stand behind that promise because our business model lives up to that slogan through systems, culture and technology. None of the small "mom and pop" shops in the plumbing sector are able to consistently meet our standards of service delivery.
Led by a senior management team comprised of entrepreneurs with collective expertise in marketing, branding and franchising for home services, our parent company ~ Authority Brands ~ aims to build national brands for nearly all services that are performed in or around the home.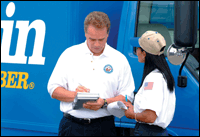 Nearly 100 franchisees operating in more than 250 locations across the USA.
Put our time-tested system to work for you and capture your dreams of successful business ownership. When you join the Ben Franklin team you will be in business for yourself, but you will never be alone. Eliminate the guesswork of starting your own business and reap the rewards of a proven business model.
Do You Want To Dominate Your Market?
No homeowner wants to be without water or second guess the reliability of their home's plumbing. Americans spend billions of dollars on plumbing service, repair and maintenance. Yet few national brands are recognized for consistently delivering quality, professional services. If you're looking for a business with growth potential, a Ben Franklin Plumbing® franchise will provide:
A market dominating opportunity for you to be part of a national team, behind the Ben Franklin brand.

The tools, training, consulting, expertise, support and keys to operational excellence that you'll need to be Number One in your marketplace.
Guarantee – Benjamin Franklin Plumbing® delivers it's promise to homeowners ~ If there's any delay, it's you we pay!®. Our Unique Selling Proposition is presented in an easy and memorable rhythm. Customers do not have to be exposed too many times to this message before they cannot forget it. This on-time service pledge and guarantee is unique in the industry and appeals to customers who place a high value on their time.
Guaranteed on-time service

Repairs and installations are presented in a straight forward manner

Professional, courteous and highly-skilled technicians

You can trust us because we stand behind our brand
Outpacing the industry in residential growth*
Ben Franklin Plumbing's 5-year cumulative same store growth is 35 percent compared to the industry average of 13 percent.* That track record along with our unique selling proposition ~ If there's any delay, it's you we pay!® ~ sets us apart from our competition and forms the very foundation of our franchise operations.
*Based on 2014 – 2018 data comparatives from industry research leader IbisWorld.
Our Ben Franklin business model delivers:
BuyMax Alliance®, our affiliate group purchasing organization with negotiated pricing that can save you thousands of dollars on the products and services you will use everyday. PLUS purchase incentives and high margin private branded products.

Success Academy™, our award-winning affiliate with on-demand technical and business management training.

Demonstrated business management processes and proprietary software give you the insight you need to run a more efficient and profitable business.

Local marketing support and national brand recognition helps you grow your business. You will tap into our online marketing toolbox for on-demand customizable advertising support. Marketing field managers provide one-on-one expert assistance to maximize your marketing reach and stretch consumer advertising dollars.

A network of successful franchisees who are glad to share what works for their businesses.