About Us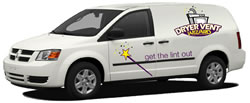 Dryer Vent Wizard (DVW) is a breakthrough opportunity in the $20 billion market segment of the home service industry. Due to the in-demand nature of our business and the specialty service our franchisees provide, DVW is experiencing tremendous growth.
Consumer sales were up a whopping 26% from 2010 to 2011, and 2012 is pacing to reach record sales! And it's all executed from a fully equipped vanthat is provided to our new franchisees at the end of their two-week training. With exclusive territories, each franchisee has the opportunity to be an indispensable service provider in their area!
Started in 2004, Dryer Vent Wizard now has 60 franchises from coast to coast, servicing 300 cities in North America. Don't miss out on one of the hottest home-based concepts available.
---
Do You Have What It Takes To Be A Successful Dryer Vent Wizard Franchisee?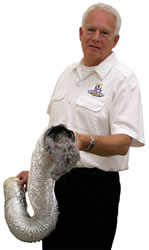 It's no secret that successful entrepreneurs have common traits. They possess outgoing personalities, excellent customer service skillsand have a handle on time-management. Many of our franchisees find that networking with referral sources within their exclusive territory helps them to expedite the success of their business. Some of our franchisees are handy or have mechanical skills, but we find that—although it's always a plus—it's just not necessary.
Does this sound like you? If you are interested in becoming a successful business owner, but the thought of everything that it takes to get a business started is overwhelming… read on! Your new career is only a few weeks away!
---
Why Choose Dryer Vent Wizard?
Just imagine… starting your own business without needing architects, contractors, building permits, a building or office, a large sales staff, or even years of experience in your field. Sounds too good to be true? Let's face it… it's not every day that you come across a hot concept that doesn't rely on a good economy! There are many exciting benefits that come with becoming a DVW franchisee.
Dryer Vent Wizards…
Have the Wizard Scheduling Center that field calls and book appointments.
Work out of a fully equipped van, not an office building.
Have exclusive territories… no competitors!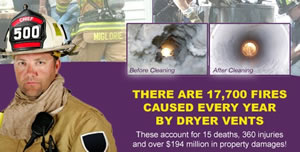 Satisfy an urgent demand… this service is a need, not a want!
Is recession-resistant… clothes dryers are everywhere and they all need service.
Is weather-independent… rain or shine!
Have a high profit margin with a quick breakeven… months, not years!
Provide an opportunity for residual income from re-cleans.
Require few employees… maybe it's just you!
Have multiple revenue streams… residential, multi-unit, commercial
Maintain a high re-sale value.
The experts at DVW will deliver complete training of the DVW Systems. After all, we created this industry! The proof is that 94% of customers surveyed said they would refer DVW to a friend!
This business is absolutely recession-resistant. The size of the market, the urgency of the need, the residual income from repeat cleans, and the fact that homes and businesses will always use dryers, makes DVW a rock solid franchise opportunity!
---
If Service Is Your Passion, Then You'll Love Our DVW System!
Our family of franchise owners spend their time helping appreciative homeowners safeguard their homes and families against the horrors of a house fire.
DVW franchisees are specialists in inspecting, cleaning, repairing, replacing, altering and maintaining dryer vents. This service is done in single-family homes, multi-unit condos and apartments, commercial settings (hair salons/barber shops, gyms, pet groomers, schools, hotels), and anywhere that relies on dryers. The market is vast and there is no organized competition.
Our proven system enables our franchisees to figure out solutions to dryer vent problems that others don't know about or even want to attempt. Our customers receive up-front pricing so there are no surprises when the service is complete. Now that's service!