Fresh Coat Franchisehelp.com
What is it?
Fresh Coat is a full-service, interior and exterior, residential and commercial painting company. Fresh Coat also offers disinfect and protection services that keep your home clean and healthy.
Additional services: Wallpaper removal, pressure washing, fence and deck painting and staining. Deck and exterior surface sealing.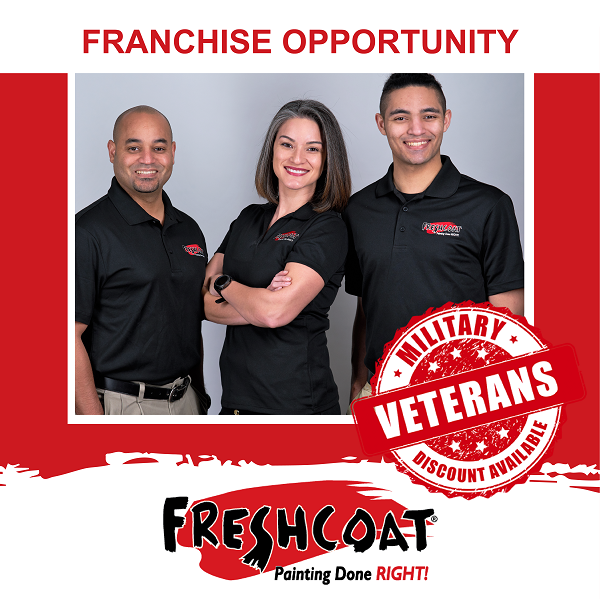 How does it make money?
Customers pay Fresh Coat Painters franchise owners directly for services and supplies
Fresh Coat Painters Franchise support staff provides lead generation support for their owners through digital marketing efforts, national alliances, commercial accounts and other referral sources
Fresh Coat Painters receive exclusive discounts from national paint suppliers like Sherwin Williams
Who is it for?
Successful Fresh Coat Franchise owners are entrepreneurial, driven to succeed and passionate about providing world class service. Business management experience is a plus. No painting experience is necessary.
People seeking an affordable and home-based business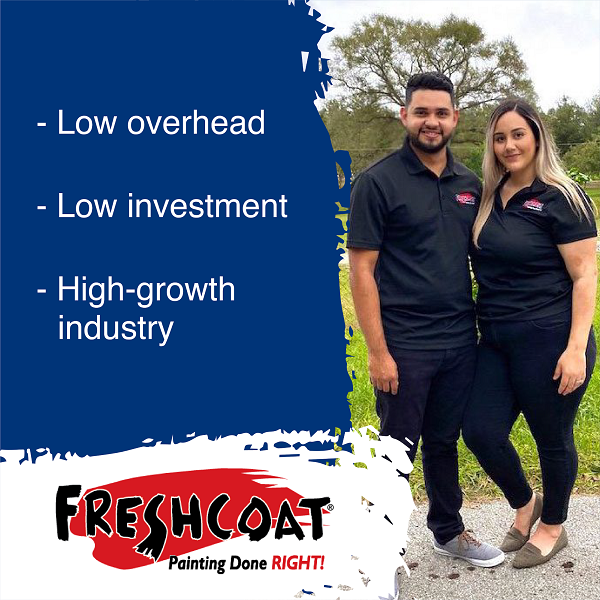 What would you do as a franchisee?
Hire, manage and provide guidance to professional painters
Network, market and promote your business within your community to drive leads
Bid on residential and commercial painting opportunities
Nurture and maintain positive relationships with customers to encourage recurring business
Ready to Give Your Life a New Look? It's Time for a Fresh Coat!
Over 175 Fresh Coat owners have invested in their lives and futures by becoming a Fresh Coat Painters Franchisee. When you join the Fresh Coat franchise system, you are entering into a partnership with a proven business system. You become a small business owner, but, you get big business support, training, marketing and technology. Franchising provides entrepreneurs the opportunity to launch a nationally recognized business without the hassles of a start-up. Fresh Coat Franchise owners are provided with hands-on training, business coaching, marketing and technology support.
Why Fresh Coat Painting?
Two Hot Markets – With Fresh Coat, you get two franchises for the price of one…the right to serve both residential AND commercial markets. Unlike others, there are no extra fees for that and your exclusive territory includes both red-hot markets to maximize your profits.
Quicker Path to Profits – Being the most affordable painting franchise, your operating costs will be lower and your potential profits higher. We offer among the lowest franchise fee, branding & technology fees, and royalty minimums…and no fees for training or commercial services.
A Proven Marketing Machine – We are proud to be a marketing company first, a painting company second. That winning mindset sets us apart and sets you up for big success. Our goal is to drive you more leads than you can handle, compelling you to grow your staff and profits over time. Our dedicated HQ marketing teams not only drive residential leads to you, but also National Accounts that are already signed, sealed and delivered…you simply provide the painters. We also vet Commercial Projects in your area to help you profitably bid and win lucrative painting jobs for stores, restaurants, and business & medical offices. And finally, our unique customer-attraction promotions ("We paint any room for $299") get your foot in the door fast so you can build trust and earn many additional painting projects at each home, both inside and out.
Earn Back Your Franchise Fee – Nobody else has anything like our Winner's Circle Program, allowing you to earn back your franchise fee in full. Unlike others, we stand behind our proven operating, marketing, painter-recruitment, and technology systems so much so that we tie our success directly to your success…a true partnership that supports you and your business. This program is for decisive, driven owners who will truly follow our systems and fully utilize all of the resources & support we provide to grow your revenues and scale your business…training, business coaches, digital marketing, PR, estimating/quoting technology, painter-recruitment systems, regional/national conferences, on-line seminars, peer-to-peer educational programs, national supplier/vendor alliances, and more. The more you make, the more we make over time.
A Perfect Vehicle for More Life – Our proven business model and marketing machine combination provides you with the perfect vehicle for you and your family to enjoy More Life…more control, freedom, flexibility, work-life balance, financial success, and satisfaction. Painting is always in demand, in both good times and bad, and nobody does it better than us.