| | |
| --- | --- |
| | Handyman Matters is a high energy handyman business that cares for peoples' homes and commercial properties. Our customers are seniors, busy working professionals, single male and female home owners, and all commercial properties. The tasks we perform are plumbing, electrical, drywall, tile, carpentry and any miscellaneous task around a property in a Time Plus Material contract with the client. The typical day in the life of an owner operator is 7:30 - 5:30 Monday through Friday. We have a strong proprietary database that integrates with an accounting package. Advantages include low overhead and quick ramp-up time. |
Handyman Matters offers a great variety of products and services. Because of this variety, the franchisees can build their business on working repeatedly with a satisfied customer and their referrals. Our goal is to provide customer service that elevates Handyman Matters to the position of lifelong customer loyalty.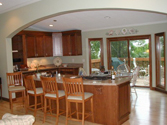 Our business model is unlike a contracting business. Handyman Matters is a management, marketing, and scheduling model– no salespeople or estimators are necessary. We use cash flow accounting because payments are made at the time of service by check, cash or credit card.

Becoming a Handyman Matters franchise owner affords the luxury of being in business for yourself. Our model has been evolving since the beginning and we continue to stay ahead of the competition and address the needs of our industry. We will help you utilize past experience and skills through your earlier career to maximize the performance of this business model. One of our biggest strengths is that we have many many corporate accounts that franchisees immediately have access to like Burger King, Starbucks, Chili's, Best Buy and Radio Shack. These corporate business accounts is 50% of the revenue for most franchisees.
You don't need to be a skilled crafts person, and you don't have to know the home improvement industry. We're looking for partners to work on a business, not in one.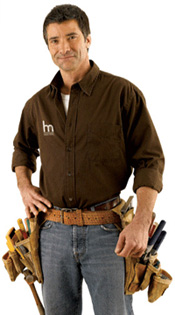 Things are changing and evolving in the handyman industry at an extremely rapid rate. This industry has had little qualified competition. We have been perfecting our systems, operation and technology to better address the day-to-day demands of the industry. We never stop developing and improving our system and techniques as it is a continual process.

Handyman Matters developed state-of-the-art proprietary software that systematically manages the entire company including scheduling, marketing, tracking, dispatching and accounting.

Training/Support:
Handyman Matters provides five days of intensive training at our corporate facility in Denver Colorado. And five days of on-site training after your first 90 days of operation. We are also available for follow-up custom training at your operation at no additional charge except travel and expenses. Ongoing support comes in the form of constant communication and availability our corporate office, our proprietary computer scheduling and dispatch data base, secured Intranet location for chat-ideas-improvements-manual updates and reporting, commercial sales division, area and regional meetings, and annual convention.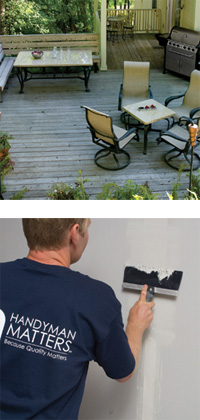 Qualifications:
We are looking for independent minded self-starters who have creative abilities to implement and enhance our current programs. People who are willing to take calculated risks and work independently within an established system of operation are the most successful. We are looking for someone who will take pride in his or her work and strives to understand all facets of the Handyman Matters operation. This will require some hands-on skills and an understanding of the basic principals of people management. A background in do-it-yourself or construction is a strong plus, but not a requirement.


SUPPORT & TRAINING PROVIDED

Handyman Matters
Financial Assistance Provided: Third Party
Site Selection Assistance: Yes
Lease Negotiation Assistance: N/A
Co-Operative Advertising: Yes
Training: One week training in Denver, CO / One week training and support on-site after business has been set up / Phone support
Submit the form to the right to request more information about this franchise.