Hello and thank you for your interest in learning more about the Mighty Auto Parts franchise opportunity!
The Mighty Difference
Mighty is a network of 96 U.S. franchises and five international distributors. We licensed our very first franchise more than 50 years ago, so we have a vast amount of experience when it comes to making our franchises successful.
The Mighty business model is quite unique. Unlike most franchises, we are strictly B2B and exclusively wholesale suppliers. Our owners operate from a small warehouse (no costly retail space required) and provide quality preventive maintenance products and a multitude of valuable services to their automotive service customers.


What sets us apart from our competition is our relationship selling, inventory management expertise, and business support services. Our customers choose Mighty as their supply partner to keep their inventory stocked correctly and provide the tools and training to help them operate more efficiently. In turn, improved operations allows them to service more cars and run a more profitable business.

Why Choose Mighty?
There are many benefits to joining the Mighty Family. We look forward to telling you more about the following benefits our franchisees enjoy.
INCOME POTENTIAL: Mighty offers a success-proven opportunity to build long-term wealth. Our gross profit margins exceed industry norms.

FLEXIBLE LIFESTYLE: Because we are B2B/wholesale-only, you will operate during normal business hours Monday through Friday.

BUSINESS STABILITY: Mighty's financial strength and longevity as well as the recession resistant aspect of the automotive aftermarket will help drive your success.

PARTNERSHIP: Everyone at Mighty takes great pride in our strong brand, quality products, beneficial programs, and caring people. We are all invested in the success of our franchise partners.

TRAINING & SUPPORT: There are 45 staff members at the Home Office whose primary responsibility is to help our franchises thrive. We offer extensive initial and ongoing training, and resources as well as sales, marketing, and technical support. Our effectiveness is evidenced by our very high satisfaction rating across the franchise system.

EXCLUSIVE TERRITORIES: You will operate your Mighty business in an exclusive, protected territory; no one else can sell Mighty in your licensed market.

NEW PRODUCTS & PROGRAMS: We stay on top of the trends in the industry and add new product categories when appropriate. For example, we are now offer a full line of PPE (personal protective equipment) products that really helped our franchises weather the storm in 2020 while providing valuable and much needed supplies to customers.

Opening Your Mighty Business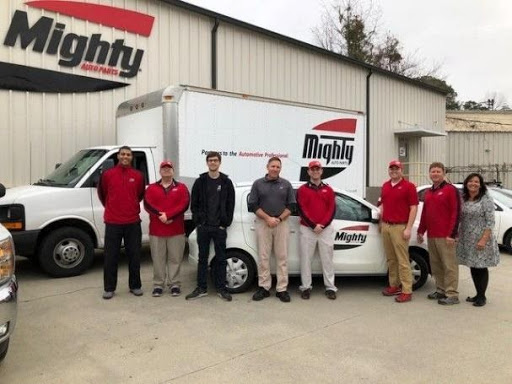 When you join the Mighty Family, our team will support you with:
Initial Warehouse Set-Up and Implementation

Operations Training – How to Run Your Mighty Business

Sales Training

Mighty University Online Classes

Product Knowledge & Application

Customer In-Store Training & Technician Clinics

National & Regional Meetings to share best practices with other Mighty franchise owner
Our corporate office provides centralized support throughout the life of your Mighty ownership. We communicate with franchisees regularly through a private intranet and weekly emails to keep everyone informed of new programs, products, support tools, salesperson incentives, and success stories.


Veteran Incentives

To encourage veterans to join the Mighty Family, we are offering several incentives including the following:
25% off our License Fee

Waiving the $7,500 Training and Support Fee

Providing special terms on initial inventory

Assisting with business loan options through our partner, Boefly.




Learn More

We look forward to helping you learn more about our unique opportunity. Once you request more information, a franchise representative will be happy to talk to you.
Again, thank you for your interest. Together we can BE MIGHTIER!