Start Your Own Business In A High-Growth, Essential Industry
Ever dream of running your own business? Mosquito Squad allows you the opportunity to be your own boss while having the backing of a renowned, nationwide support team. Even better, you can start your business from the comfort of your own home office!
If you want to take control of your schedule AND create the lifestyle you've always wanted for yourself and your family, Mosquito Squad may be the perfect match for you. Your office can be home-based, AND you set your own schedule, so no late nights or weekends are required.
Mosquito Squad offers a scalable business with massive expansion potential. With our outdoor pest control franchise, you can invest in yourself and build a rewarding business to benefit from many years into the future. We also offer opportunities to invest in more additional streams by diversifying your home service offerings.
Rising demand and decreasing costs have resulted in high-profit margins for pest control companies. In fact, the mosquito and tick control services provided by Mosquito Squad are considered essential. Throughout the nation's various stay-at-home initiatives, our franchise owners have been open and operating, continuing to provide unmatched barrier control treatments for mosquitos, ticks, and other biting insects.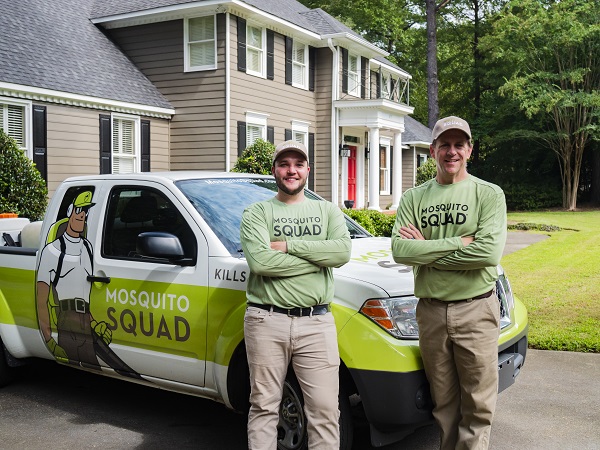 Fast Financials
• Top 25% Owners Gross Revenue of $1.13M With Year Over Year Growth Of 25%
• Top 50% Owners Have a Customer Renewal Rate of Over 70%
• Top 25% Owners Average Gross Revenue of $745.39 Per Customer
• 2021 System Wide Sales = $102,435,356
• Annual System Wide Sales Growth of 26% Since 2020
• 237 Territories
• 119 Franchisees
Owner Testimonials
• "I love the fact that I control my own destiny. I'm my own boss." - Brett, Mosquito Squad franchise owner, Salt Lake City, UT.
• "It's been absolutely amazing, and I feel next level." – Capricia, Mosquito Squad franchise owner, Indianapolis, IN.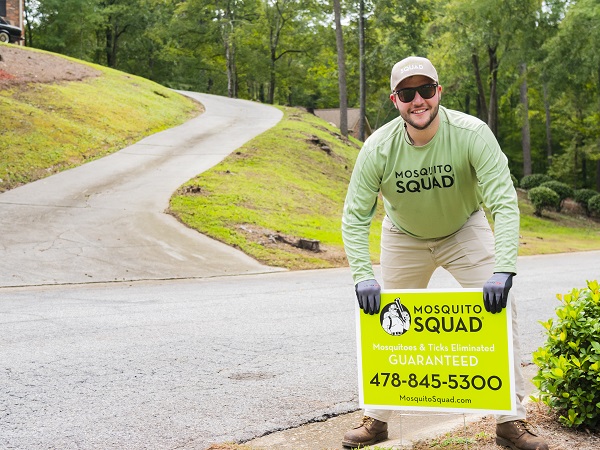 Differentiator
• Sustainable In-Demand Service
• Recession Resistant
• Low Consumer Price Point – Accessible Service
• Large Protected Territories
Minimum Qualifications
• Franchise Fee
• < 350,000 Micro Pop = $22,500
• 350,000 - 500,000 Standard Pop = $45,000
• > 500,000 Larger Pop = + $0.10 per person over 500,000
• Liquid Capital: $40,000
• Credit Score: 675
• Total Investment: $153,410 – $201,035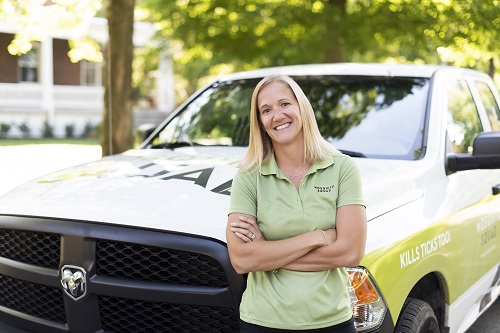 Features and Benefits
• High Margins
• Dependable Recurring Revenue Available
• Excellent as an Add Business
• Simple Operational Processes
• An Essential Service
• Fast Start-Up
• No Brick & Mortar Location
• Minimal Inventory and Equipment Requirements
• Local Marketing Handled By Franchisor
• Exclusive Territories Available
• National Group Purchasing Power
• Manage Customers with a Customizable CRM
• Comprehensive Initial & Ongoing Training
The Top Nine Reasons Why Mosquito Squad Is Right For You
• ESSENTIAL SERVICES: The pest control services provided by Mosquito Squad are considered essential. Nationwide, as the various stay-at-home initiatives have been in effect, our franchise owners have been open and operating, continuing to provide control treatments for mosquitos, ticks, and other biting insects. Our goal is to help families enjoy their outdoor living spaces as worry-free as possible.
• LOW INVESTMENT: The initial start-up investment ranges from $109,465 to $167,150, which includes the initial franchise fee for an exclusive territory and setting up your business. We were ranked a Low-Cost top franchise by Entrepreneur.com in 2020.
• A CHOICE OF SERVICES: There are several choices to offer to our clients, including both EPA-registered pest control solutions and all-natural solutions for clients seeking an organic or green approach.
• MULTIPLE REVENUE STREAMS: The various revenue streams available to franchise owners include our Barrier Spray Program, Automatic Misting Systems, Special Event Treatments, Enhanced Tick Control, and Commercial and Municipal Property Protection. Each option has different price points, allowing you to appeal to various homeowners and businesses in need of an outdoor pest management solution.
• RESIDUAL INCOME: A key advantage is the ongoing revenue stream from repeat barrier sprays and the refills of automatic misting systems. This repeat business dramatically increases revenue and profits once a customer base is established. As an owner, you will provide a valuable service and unbeatable convenience for your customers while ensuring residual income for your business.
• EXPERIENCED SUPPORT STAFF: We offer unparalleled support from a passionate, highly attentive, professional staff in all the key disciplines you'll need including customer acquisition, sales & support skills, and technical expertise.
• MARKET KNOWLEDGE & FRANCHISE-LED INITIATIVES: Providing owners with data about customer mindset and demographics as well as effective marketing like distinctive branding, public relations, and social media are all key parts of our Mosquito Squad offering.
• EXTENSIVE MARKETING TOOL KIT: From business cards and brochures to ads and direct mail, Mosquito Squad has created impactful marketing materials to kick your business into high gear.
• TECHNOLOGY: Streamline the day-to-day sales and operations of the business with easy-to-use technology tools.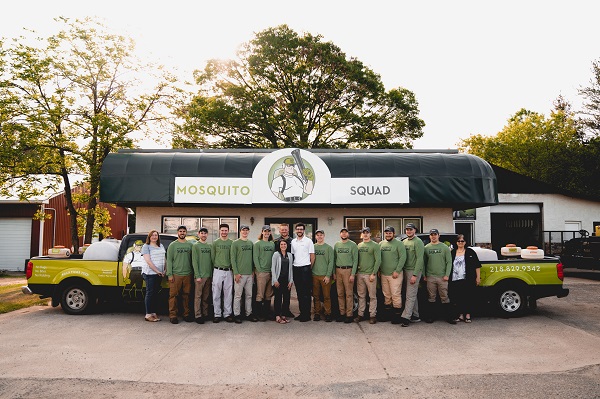 Unique Facts
Optimized For Scalable Revenue Generation

• No Franchisee Royalties for The First 12 Months
• Multi-Season Customer Contracts
• Very Large Territories (3-4x larger than competitors)
• Semi-Essential Business: Health & Safety
About The Brand
Mosquito Squad is America's original and most trusted tick and mosquito control franchise.
Mosquito Squad was born out of necessity in 2005 when founders Boyd Huneycutt and Scott Zide found a need. Previously in the outdoor lighting business, their installers were being eaten alive by mosquitoes while working outdoors after twilight. Poised with that dilemma, they created the answer: The Protective Barrier Treatment.
No one in the industry is even close to our experience. Hundreds of thousands of clients have trusted us to deliver millions of Protective Barrier Treatments. In 2009, the Squad started franchising with just 15 locations. Since that date, we've grown to over 200 locations. In 2018, Mosquito Squad was acquired by Authority Brands, a growing portfolio company of premium home services franchises.
About Our Owners
• No Previous Mosquito or Tick Control Experience Required
• Have Excellent Management Skills
• Possess A Strong Work Ethic
• Are Clear, Effective Communicators
• Can Confidently Manage Projects
• Can Be Semi-Absentee or Owner/Operator
Successful Mosquito Squad franchise owners have come from nearly every walk of life. Our owners come from diverse backgrounds, with only the passion, dedication, vision, and drive required to own a successful franchise. In other words: you might be the perfect person to open a Mosquito Squad location regardless of your background and experience!
Mosquito Squad looks for owners/operators that have management backgrounds and strong interpersonal and communication skills.
The franchisee is responsible for running all aspects of the business with a team of part-time seasonal employees (part-time students, firefighters, teachers, etc.). These duties include managing operations, recruiting/hiring, scheduling, ordering inventory, marketing, financial management, reporting, etc. All aspects of which are covered in training.