About Us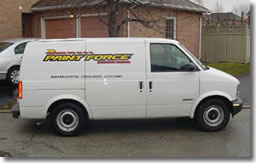 Paint Force Scratch Patrol's Franchises will provide you with everything you need to start earning money with your business as soon as possible.
The Comprehensive Franchise Package includes the most thorough training available in the industry today. Paint Force Scratch Patrol's paint technologies are second to none. Take the opportunity, and join this ever growing field of industry professionals today!
Paintforce has created a step-by-step process that restores vehicle's paint in about two hours, whether it's been scuffed, scratched, chipped, dented, flaked, or cracked.
---
Why Us
Paintforce fills a void in the marketplace by offering the highest quality repairs with a customer service system second to none. Just a few reasons to invest with Paintforce include:
We save our ever growing customer base time and money compared to the traditional body shop.
Paintforce offers a full state territory at a price other companies charge for one small owner operator territory. We give you the room you need to grow.
Paintforce has no monthly fees or royalties, we work with you to make money not spend it
---
Training & Support
Paintforce is building and training a team of like minded people that know by offering expert repairs and by saving your customer time and money will dominate this large sector of the automotive market. We offer:

Full 24/7 support we are with you all the way as you grow your business.
Two week intensive real world training program - This includes working at auto dealerships and retail locations so you will learn firsthand every technique to excel in high demand business.
Ongoing support - Our doors are always open if you or any technicians you hire need additional training at no extra cost because we want you and your team to be the best in the business.
---
Ideal Candidate
Paintforce is looking for the right person who wants to join our team to excel in this field and grow with our brand name, that's why we offer whole state territories at a price other companies charge for a small owner operator territory, we give you all the room you need to grow.